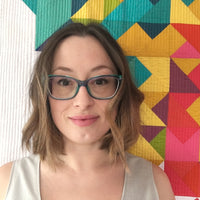 Hi, I'm Lou
I'm a designer maker working from Oxfordshire, UK.
I started sewing not long after my first daughter was born. Having hated sewing in school (I could never remember to put that presser foot down!) I didn't hold out much hope for this new hobby sticking, but it did!
I was instantly hooked on the amazing feeling that comes from creating something with your own hands.
I soon discovered the world of modern , designer fabrics and never looked back.
I've worked for many British sewing and quilting magazines, creating patterns and projects for them.
In 2018 launched my own collection of Paper and PDF patterns, which you can find here.
You can also find me on Instagram and Pinterest as @louorthdesigns, or why not sign up to my newsletter below!